---
Welcome to Tony, Jim, and Sam's website. This project started in May of 1998 when we were out to dinner and decided to go see a movie afterwards. We were at Applebee's and the waiter, whose name has been lost to history, suggested we see "Mercury Rising". We had so much fun we decided to make it a weekly event.
We have been fairly faithful in our commitment to see a movie every week. We usually manage to see 50 movies every year. As the number of movies we have seen began to mount up, we began to keep track of them on a spreadsheet, which was created by Tony. The spreadsheet kept track of such things as the movie's running time, the director, the MPAA rating and most importantly our own personal rating of the movie. The spreadsheet has become so large that we have now created this website to keep track of the information.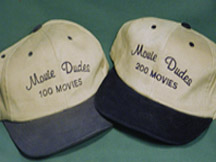 After our second year of seeing movies together we realized that we were approaching 100 movies. To celebrate this milestone we decided to go back to Applebee's for dinner. (The unknown waiter no longer worked there.) At dinner Jim surprised us with hats to commerate the occasion. At the end of our fourth year of seeing movies together we got our second set of hats. At the end of 2004 we should be seeing our 300th movie together.
Over the years we have been to a number of different theaters. Our first movie was seen at the University 8 on Maple Rd. in Amherst, NY. We even stop to see movies when we travel and have seen movies in Dallas, Chicago and Albuquerque. We tried to see a movie in London but their movies come out later than ours and we had seen everything that was playing. We didn't bother trying to see a movie in Paris because they were all in french. We have now come to prefer Regal Entertainment theaters for our movie going experiences. Every Friday or Saturday night we can be seen at the Regal in Orchard Park but we are most often at the Regal on Elmwood Ave. in Buffalo, NY. You can look for Jim's Buick Rendezvous in his usual parking space located on the side of the theater by Buffalo Wild Wings.